New Date! Hello Summer ! ROOFTOP "Pop-Up" Pool Party, this Saturday, July 28th
July 28, 2018 @ 7:00 pm - 12:00 am
NULL
Dear "
Hello Summer
" patrons,
This UNUSUAL and shaky weather had us a bit fooled this week… but we are all now back on track!
Based on the weather predictions for this coming weekend, Penthouse
Pool club has determined that our event is best hosted on Saturday, July 28th from 7pm to 12am, instead of this Friday as previously advertised.WE apologize for any inconvenience caused, and we hope that this NEW & FINAL DATE works BEST. See you on Saturday!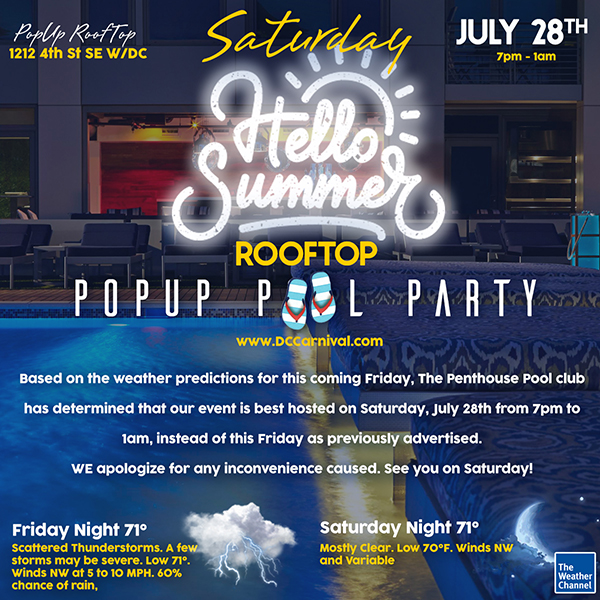 [[ HELLO SUMMER!]]
The most anticipated Rooftop Pool Party will "pop-up" this coming Saturday, July 28th at 1212 4th St SE-DC from 7pm to 12am….
Let's #BeattheHeat right after work and #CoolDown at one of DC's Sexiest Rooftop pools!
Things to Remember
• ALL pre-Purchase tickets, Cabanas, Pool beds, and Day Beds will be honored on July 27th
• The Rooftop Pool Party attire is still SWIMWEAR Encouraged, but NOT Required.
• ONLY the DATE has changed; the TIME of the event is from 7pm to 12am (Early Arrival Suggested)
• Can't make it this Saturday? No
worries…ask us how to forward your ticket(s) to the next pool party
event (dropping soon!) Hit us up on DM @dccarnival or email us at events@dccarnival.com.
We look forward to celebrating the Summer Life with you!
#HelloSummer #AterWork #PoolPartyPopUp #BeattheHeat #CoolDown #GrownandSexy #SwimWearEncouragedNotRequired